Industry-Leading Die-Cut Lids
That Support Any Medical Device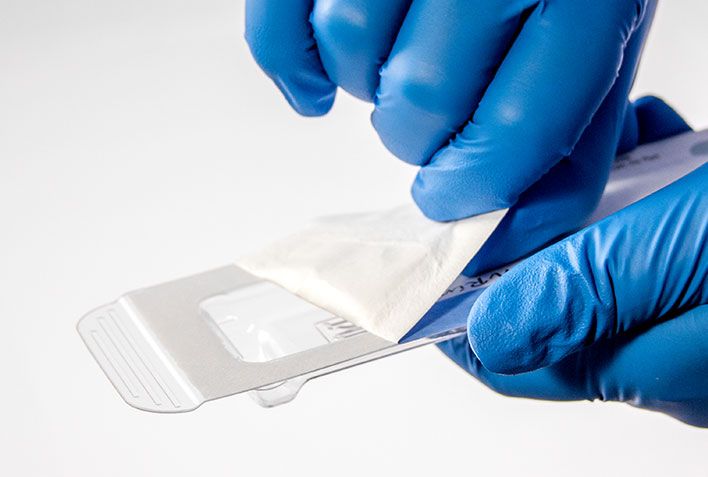 Oliver Has Customizable Lidding Solutions To Meet Your Needs
Maintain sterility and help ensure safety with our industry-leading die-cut lids.
Fully customizable across a broad range of applications, our specialty lids and coated lids feature the right combination of materials and adhesives to meet all of your sterilization and packaging specifications.
Our adhesive coatings support sterilization methods requiring more porosity, like EtO and steam, better than other products on the market.
We don't dictate a single coating — we are the industry leader with options like SealScience® water-based and Xhale® hot-melt adhesives. We apply the adhesive coating to suit your need, all over or only where specified, with our Osurance® zone coat offering.
Die-Cut Lids: Features And Benefits
Superior porosity to prevent sterilizer creep
Sealable across wide temperature ranges
Impact resistant, even in cold temperature transport
High-altitude creep resistance
Overcomes sealing challenges due to silicone-coated trays
Optimal zone coverage with Osurance zone coat
Die-Cut Lids: Value-Added Capabilities
Rotogravure, flexographic, and offset printing technology
Surface, reverse, and double-sided printing
Bar coding
Perforating that simplifies the sealing process
Lift tab application
Rotary or sheet-fed die cutting
Die-cut and square-cut
Applications
Die-Cut Lid Applications
Our die-cut coated lids are fully customizable to a wide range of medical device and pharmaceutical applications, including:
Medical and surgical trays
Cardiovascular
Orthopedic
Implants
Catheters
Wound care components
Instruments
Suction tubing
IV tubing
Sterile kits
Labware components
The more critical the medical device, the more important safety is when packaging. Our die-cut lidding fits all class devices.
Materials
Die-Cut Lid Materials
Tyvek®
Ovantex
Papers
Films
Foils
Sterilization
Die-Cut Lid Sterilization Methods
Radiation
Autoclave (steam)
Dry heat
EtO sterilization
Nitrogen dioxide sterilization
High-Touch Service And Technical Support
Whether you need help creating a packaging solution or troubleshooting an issue with an existing product, Oliver Healthcare Packaging offers you dedicated support services. If you're just getting into high-volume applications for healthcare packaging, you need high-touch customer support.