Last week, I joined Oliver's European team in Dusseldorf for Compamed 2019. The show is one of our largest of the year and is a subset of a greater exhibition called Medica. For me, a show this big is almost TOO big. But with that said, it was still interesting to walk the 17(!) different halls to decipher the latest trends in healthcare. Between the 25,000 steps walked, here were 4 trends that stood out to me:

Sustainability Everywhere
Europe has led the movement for more sustainable living, and this was evident in the packaging exhibitions across Compamed. Numerous vendors were promoting their "green" solutions, but it seemed like a lot of marketing bluster and nature-splashed logos. I'm anxious for a smarter conversation on reducing material usage or experimenting with reusable concepts. This was one of the driver's behind our Dispos-a-vent pouch design.
There is a thirst for more recyclable materials, but it's a complicated solution that will require lots of test data, regulatory partnerships, and a wholesale change in hospital waste streams. I'm confident we'll get there, but it's a 5-10+ year shift. At least we can enjoy the compostable silverware in the meantime, baby steps!
Growth in Diagnostics
As technology improves in lyophilization and microfluidics, it's fascinating to see the advances in testing and diagnosis that can happen in a single 'lab on a chip'. The IVAM Professional Association for Microtechnology hosted an exhibition of 55 different companies and I couldn't help but look around to see the packaging. Unnecessary double-packaging, bulky desiccant sachets … there appears to be a lot of opportunity for more sustainable options. Let's get to work!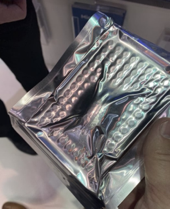 Snap-Open Packaging
One new format I had not encountered before was from Australia. Tim Macdonald from Snapsil was in attendance demonstrating their snap-open format for powders, syringes, and injectable devices. With a start in the consumer food industry, Tim and team are moving into medical and I'm intrigued by the design for care providers. Hoping to learn more about the particulate generated from a break to the rigid bottom web, would this pass in the OR? Or is it more suitable for bedside clinical environments? If you've experimented with the technology, please share your thoughts in the comments.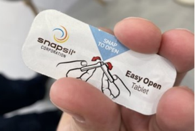 Connected Devices
Like diagnostics, an unavoidable trend is the continued rise of connected devices. If you can slap a sensor on it and call it "smart", there was a spot for you at Medica. From the packaging perspective, it raises a whole new set of questions to be considered in the design phase. The choice in sterilization modality could change based on the presence of electrical components, thus driving a major change in material selection or venting. Labelling and safety requirements must be especially prominent with a connected device.
Lastly, my mind goes back to our operating room simulations at Oliver. If the package is poorly designed, it could be difficult to open and spill out in the OR. With the high cost of a connected device, we cannot let poorly designed packaging be the cause for losing a device or harming a patient.
(Bonus Trend!) Smart Footwear
No this isn't a trend about "connected sneakers". Just a massive THANK YOU to the creators of ZeroGrand at Cole Haan. 25,000 steps? In formal business attire? And no blisters? You the real MVP of Compamed.