Barrier Packaging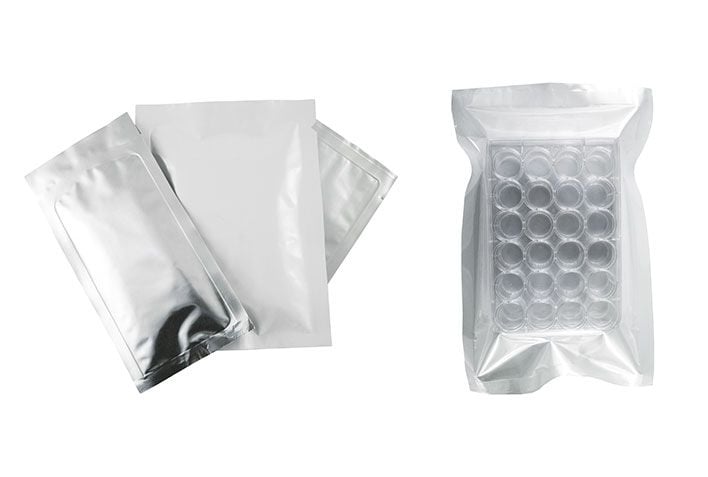 We convert high barrier films and foils into die-cut lidding, pouches and roll stock for special applications where barrier properties are needed.
Our high barrier film and foil packaging provides UV, oxygen and/or moisture protection for your medical, pharmaceutical, biological or combination drug device. Applications include:
Biological combination products
Bone cement
Pre-filled syringes
Transdermal patches
Stents
Wound care products
Inhalers
Diagnostic Devices
Barrier packaging may be configured with a variety of foils and high barrier films for custom packaging solutions. We customize our high barrier packaging with proprietary adhesives, if the solution is right for your application.
Moisture Barrier
Products to meet your Specification
Leverage our packaging expertise and vast product offerings to engineer a package meeting your moisture barrier specification with:
AlOx films
Foil laminations
Peelable or permanent bonds
Transparent, white or silver finishes
AlOX Barrier Film Features and Benefits
Gas and moisture barrier prolongs product shelf life by protecting wet and dry products from moisture vapor transmission
Barrier film pouches may be vacuum sealed or gas flushed to remove ambient air
Product visibility allows for visual device inspection
Available as an aluminum oxide coated PET lamination for tear-open pouches, or an aluminum oxide coated PET lamination with 2 mil sealant layer for peelable pouches
UV Barrier
Products to meet your Specification
Leverage our packaging expertise and vast product offerings to engineer a package meeting your moisture barrier specification with:
Ofilm Sablock pouching film
Foil laminations
Peelable or permanent bonds
Transparent, white or silver finishes
Foil Features and Benefits
UV/visible light protection for sensitive products
Gas and moisture barrier prolongs product shelf life by protecting wet and dry products from moisture vapor transmission
Sealable to PETG, PVC, PP, HDPE and other rigid tray materials
Oxygen Barrier
Products to meet your Specification
Leverage our packaging expertise and vast product offerings to engineer a package meeting your moisture barrier specification with:
AlOx films
Foil laminations
Peelable or permanent bonds
Transparent, white or silver finishes
ALOX Barrier Film Features and Benefits
Gas and moisture barrier prolongs product shelf life by protecting wet and dry products from moisture vapor transmission
Barrier film pouches may be vacuum sealed or gas flushed to remove ambient air
Product visibility allows for visual device inspection
Available as an aluminum oxide coated PET lamination for tear-open pouches, or an aluminum oxide coated PET lamination with 2
Sterilization Methods
Sterilization Methods
Radiation
EtO (in Dispos-a-vent® configuration)
Gas Plasma – depending on material combinations
Steam (in Dispos-a-vent® configuration)