This May, a new healthcare packaging conference launched in Austin, TX—
the[PACK]out
—created for the industry, by the industry. The
goal of the event
was to rethink and retool the concept behind industry conferences.
Industry experts and companies came together to redefine what a healthcare packaging conference looked like. 3 days, 2 tracks, and 1 workshop—meant to foster education and connection between colleagues, peers, and competitors within the industry.
The content of the conference was focused on three main pillars: design, usability, and sustainability. Each track, tenured and foundational, carefully curated to ensure engaging and thoughtful conversations around these pillars.
It was clear from the buzz between sessions that sustainability continues to be a hot topic in the industry. Sessions such as Andrew Green's Advancing Sustainable Materials in Medical Packaging and the MDM panel discussion, Sustainability is a Team Sport: Leverage the Value Chain, spurred deeper conversations among attendees on sustainability in our industry. The day 3 sustainability workshop, where the audience of packaging experts were asked to select appropriate recycling methods for different packaging platforms, shined a light on the fact that we, as an industry, still have a lot of work to do!
In addition to sustainability, highlights of the week included guest speaker, Nick Webb, who kicked-off the conference with high energy! The first ever, industry power hour where speakers represented organizations, shared their missions, and how to get involved. And countless other sessions and speakers that shared their expertise and experiences to better the industry.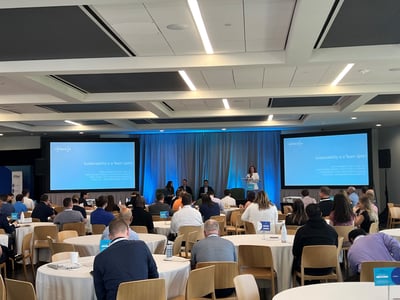 At the[PACK]out there was also a group of students in attendance, sponsored by various industry experts and companies such as, Oliver Healthcare Packaging. Having students in attendance was an important objective of the[PACK]out to ensure the industry's next generation was part of the conversation.
Overall, attendees walked away from the event energized, informed, and hopefully having made a handful of new connections. But, the true magic of the[PACK]out was seeing companies and individuals in the industry come together to create an experience that was more than your average conference. Here's to the[PACK]out 2023! We hope to see you there.