Part two of

our

three-part series

examines

how China's evolving medical device market helped

the country during the pandemic

.

It also

looks back at

w

hat changes

took place as the healthcare sector

found itself

at

center stage o

f

the world's

COVID-19 response

.
Part 2: Regulation Speeds Up Due to COVID-19
Before the high-stake race for safe and effective COVID-19 vaccines, China was committing itself to another kind of race: a race to meet the demand of medical supplies and drugs for the climbing number of patients in critical care facilities.
In response to the rise in COVID-19 cases, and the stress on medical facilities in early 2020, Chinese authorities elected to adopt new emergency measures under the "Special Review and Approval Procedures" to fast-track approvals for certain medical devices and supplies. Fast-track programs are not new in the medical device and pharmaceutical industries. Particularly in China over the past two decades, reforms in Chinese regulations allowed priority review and approval in cases of national emergency. For instance, the emergency drug Remdesivir, to treat COVID-19, was approved in two days.
Prior to the outbreaks, regulatory efforts such as the Healthy China 2030 strategy were vigorously implemented in the pharmaceutical sector. Under the 11th Five-Year Plan, the pharmaceutical industry output value maintained rapid growth, with 2019's total output reaching 2.5 trillion yuan. A broad array of medical supplies from basic wound care to PPE to higher value instruments and equipment, have enjoyed policies and investments designed to boost total output. With the strong manufacturing position that China has enjoyed, countries across the globe realized their heavy reliance on China's medical PPE support very early on during the pandemic. China was the source of 50 percent of EU imports of these products from outside the bloc in 2018, including as high as 71 percent of EU imports of mouth-nose-protective equipment. Similarly for the United States, China was the source of 48 percent of imports of PPE in 2018, providing 45 percent of US imports of protective garments.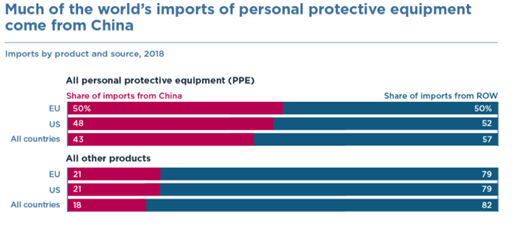 The pandemic was a distraction for some legal implementations in China's pharma and Medtech industries. In the past few years, volume-based procurement (VBP) has been the talk of the town. At the end of 2019, nine regions in China piloted a VBP program, raising concerns with leaders in the industry. The policy's price cuts were supposed to be steep, averaging between 30 and 50 percent, with some categories as high as 80 percent. In contrast, with speculation that the pandemic would shift the government's focus from VBP to outbreak response, the State Council has pushed VBP further, with an expanded scope.
The pandemic had an unintended consequence that helped bolster the tiered system of China's healthcare. Under the tiered system, patients are encouraged to visit local tier I and tier II health clinics, freeing up larger and more congested tier III specialist hospitals. Such implementation was difficult due to the popular perception that lower tiered facilities are inferior in quality. The outbreaks in the nation placed these facilities at center stage as travel was restricted and resources were exhausted in other facilities. However, the increase in demand also exposed gaps in institutional capabilities of many hospitals and clinics.
Before the COVID-19 virus spread around the globe, healthcare reforms had already been proposed and in some cases implemented, furthering the evolution of healthcare regulations in China. In this recent wave of reform, driven by the pandemic, the government has shifted focus from traditional drugs and treatments to newer and more innovative care. Initiatives such as the market-authorization-holder system improves the speed and ease to market for foreign made as well as domestic drugs and devices. This also reduces the red tape for pharmaceutical companies to experiment with innovative drugs along with quickly approved foreign ones as discussed above. As China's population continues to get vaccinated, this new wave of innovation will continue to accelerate and raise the standard of care for its citizens.
Read Part 1: Not Just the Low-End Stuff
SOURCES: